During his presidential campaign US President Barack Obama promised to work towards the normalization of relations in between the United States of America and Cuba. In 2011, the new administration reinstated the so called people-to-people tours and implemented new travel categories for US citizens to go to Cuba legally either under Specific or General OFAC license. The number of US citizens going to Cuba has been steadily increasing ever since.

In December 2014, Obama made very unprecedented announcements once again. From taking steps to the re-establishment of embassies and diplomatic relations to the further easing of USA- Cuba travel restrictions, the Obama administration continues to work towards the normalization of relations with the Caribbean island.

And while we do not anticipate that US citizens can flood Cuban beaches to sip mojitos anytime soon, at Authentic Cuba Travel, we continue to provide Cuba travel services for US citizens and professionals to visit Cuba legally under General and Specific licenses.

We just released the full roster of tours for the year 2015 and, as a value subscriber to our newsletter; we like to break the news to you first. We are accepting bookings now for the entire year. Wwe would like to remind you that space is limited, in our most popular tours.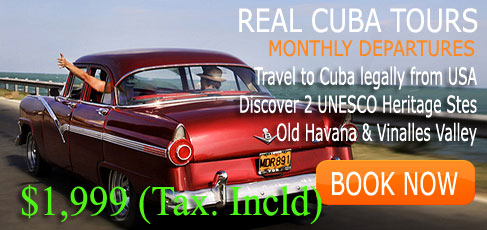 "We want you to know that we did, indeed, have a fantastic time in Cuba! It was a unique vacation and one we will cherish particularly because everywhere we went we got the impression that Cubans were welcoming an imminent change to their country. This made us grateful to witness Cuba before the unknown changes occur. Cuba is a gorgeous country, rich with history that your tour enabled us to witness. "
Bob and Linda Magni, USA
"Good morning! Our school year ended here yesterday so I though I'd take a few minutes to write you and thank you for facilitating our group's tour to Cuba!!! There are really no words to describe the impact that the trip had on each member of our group! Our tour guide and driver, Myrelis and Juan, were simply incredible. We were cared for as if family and indeed we became such a family. "
Gordon Hatchett, Brooklyn Academy, USA
"First of all, I must tell you that we had a wonderful trip, as usual (this being our third trip with you). Every day was filled with interesting and fun activities. Our tour guide, Israel, was a lot of fun and very knowledgeable. We were fortunate also to have a great group of people to travel with for the week. Since this is our third Jazz Festival trip we were pleased to have some variations to the itinerary e.g. the trip to Cienfuegos and Trinidad. We really enjoyed the visit to the home of the local Cubans and enjoyed dancing with them. "
Myrna and Peter Tydd, USA
"First, Roma and I would like to thank Authentic Cuba Travel for everything you've done to make for a remarkable experience. As artists, we were blown away by the quantity and quality of the art we saw as well as by the professionalism and training of the artists. The Art School was most impressive and easily the best use for a golf course we've ever seen. We did buy some works and are savouring them as we speak. In addition to the art, we did get to interact with the Cuban people and experience the culture, history and get a feel for the current situation."
Howard and Roma Kaplan
Explore Our Next 70 Cuba Tours QUICKLY
Reviews from Real Cuba Travelers!
Registrations are processed on a first come, first served basis and subject to availability.
We are here to help you witness authentic Cuba. Call or e-mail us. Please, consider
sharing this letter with your family, friends and colleagues
too.
Request a complimentary Cuba tour for your school today and enjoy all the benefits of traveling with the experts. As an educator, you can even benefit from traveling to Cuba before taking your students at no cost to you. Lowest Tour Costs, Discount Airfares, Peer-to-Peer Interaction and much more will make your Cuba Study Trip the most memorable experience EVER!
________________________________________________________________________________

If you would like to stop receiving our emails, please click on one of the "UNSUBSCRIBE" links in this section. We apologize for any inconvenience.

To make sure you receive our emails, please take a moment to add info@authenticubatours.com to your address book or safe senders list.

If you think your email address is being abused, please do send report to abuse@authenticubatours.org

Tour price and seat availability were accurate at the time this email was sent. It's possible they may differ from what you see when you visit www.authenticubatours.com

If you have any suggestions, comments or questions regarding this email, please email us at info@authenticubatours.com or contact customer service. ________________________________________________________________________________